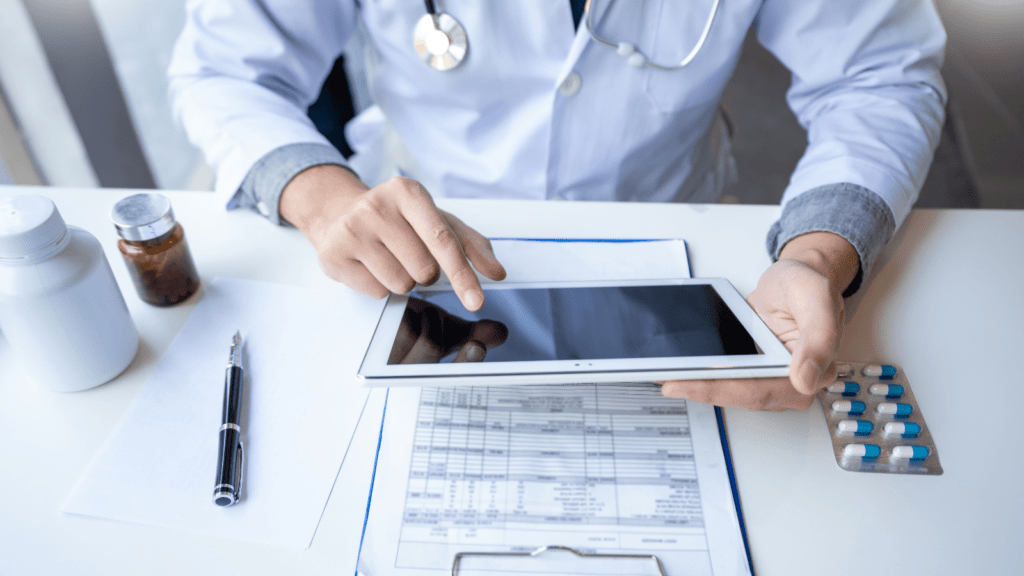 Blog » How Mobile Health Apps Improve Hospital Efficiency and Management
Hospital management has become more efficient with the use of mobile apps. These innovative technologies are helping hospitals save time and money by improving everything from patient care to staff communication in a way that makes it easier than ever before for all parties involved – including doctors who now have information on treatment options at their fingertips!
With the recent advances in digital health technology, mobile apps can be a valuable tool for improving hospital efficiency. These healthcare mobile apps and software may offer everything from appointment scheduling and reporting on wait times to glucose monitoring software that allows patients with diabetes access to convenient services.
Mobile Apps Improve Hospital Front Office Operations
Mobile applications in hospital front offices are becoming a major player among medical professionals. One reason for their popularity is they provide easy access to information on patients, allowing doctors and nurses alike to make quick, well-informed decisions in emergency situations regarding treatment plans and life-saving measures.
Improvement in the Delivery of Medical Records
In addition, healthcare mobile apps have helped reduce paperwork by providing instant updates, health information, medical records, and lab results without having to wait around forever to be delivered to your doorstep.
Reduction in Hospital Costs
Mobile apps allow hospitals to save valuable hours and reduce costs on manual processes and printed documents. They can also reduce the cost of human resources, allowing staff to dedicate their time to other tasks requiring more attention, such as improved patient management and customer service on phone lines, which are often crowded during peak hours. This can help hospitals and healthcare providers focus solely on what they do best without being distracted by paperwork.
Increased Efficiency in Healthcare Services
With more advanced app features, nurses are able to document patient medical information more efficiently. They can wirelessly scan medication administration barcodes and receive notifications with essential updates on their patients. This allows for better customer service and fosters safety in healthcare settings.
Secure and More Flexible Payment Options
Hospital apps are crucial to the success of any business and, as such, it is essential they have all the necessary features. One critical component of hospital apps is secure payment processing, which allows hospitals to accept payments faster than ever before.
Mobile Apps Improve Hospital Back Office Operations
Back-office operations have also benefited from hospital mobile apps. Professionals who use remote management tools are able to stay in the field longer and be more productive. Studies indicate that a 70% productivity improvement is possible with these solutions.
Help IT Track the Network Infrastructure
IT personnel can now walk the halls of a hospital with apps to tell them which components of their network infrastructure are not working, so they can be alerted when an outage might impact patient care. For field technicians who are always away from their desks due to work assignments, this allows for greater awareness and productivity.
Medical equipment is a critical part of any hospital, as it helps in providing care management and ensures patients get the best treatment possible. It is necessary for these machines or equipment to be well-maintained, so they work correctly day-in and day-out without breaking down due to poor maintenance practices.
A hospital app can track all assets, including medical devices for improved patient care, while also proactively reminding users about regular inspections, thereby reducing unnecessary costs due to neglectful behavior.
There are also innovative hospital mobile app features that provide details about hospital amenities, such as their location so they can be easily found in emergency situations, such as heart attacks.
Cloud-Based Mobile Applications for Patients
Cloud-based mobile applications can not only improve healthcare outcomes but can also enhance our understanding of how various factors impact chronic diseases by monitoring vital signs. Advanced cloud-based healthcare apps are capable of monitoring various diseases and related trends with:
Painless monitoring of blood sugar levels for chronic illnesses, including obesity and diabetes
Continuous heart monitoring to predict if you are at risk of a cardiovascular event, such as a stroke
Text messages warn people about the rate at which a disease is spreading, so they know when to seek emergency care.
Conclusion
Today, there is an app for almost everything. So, it should come as no surprise that there is an app for hospitals available to help with management and to keep patients on top of their health. There is a hospital application for hospital staff to help with everything from health record monitoring to care delivery.
The mobile app revolution is in full swing and hospitals are leading the charge. By implementing innovative technologies, like mobile apps for hospitals, medical professionals are able to save time and money while improving patient care. If you are looking for a way to improve your hospital's efficiency, we suggest starting with a hospital application.
Need an Expert in Hospital App Development?
If you have an idea for a hospital app, the team at Technology Rivers can help you bring it to life. Our application development team is knowledgeable about HIPAA compliance and all other security and privacy features needed in the healthcare industry.
We can assist with everything from designing the app and features to developing the code and testing it for quality assurance. Our industry-tested development process enables our team to provide quality healthcare applications for disease diagnosis, health record tracking, management systems, cancer care, and more. All of these features and capabilities allow users to experience the best patient engagement and, ultimately, help improve patient health.
Whether you want to create apps for your patients or hospital staff, we have the knowledge and expertise to make your vision a reality.
Contact us today to learn more about how our team can help you develop a custom hospital app!