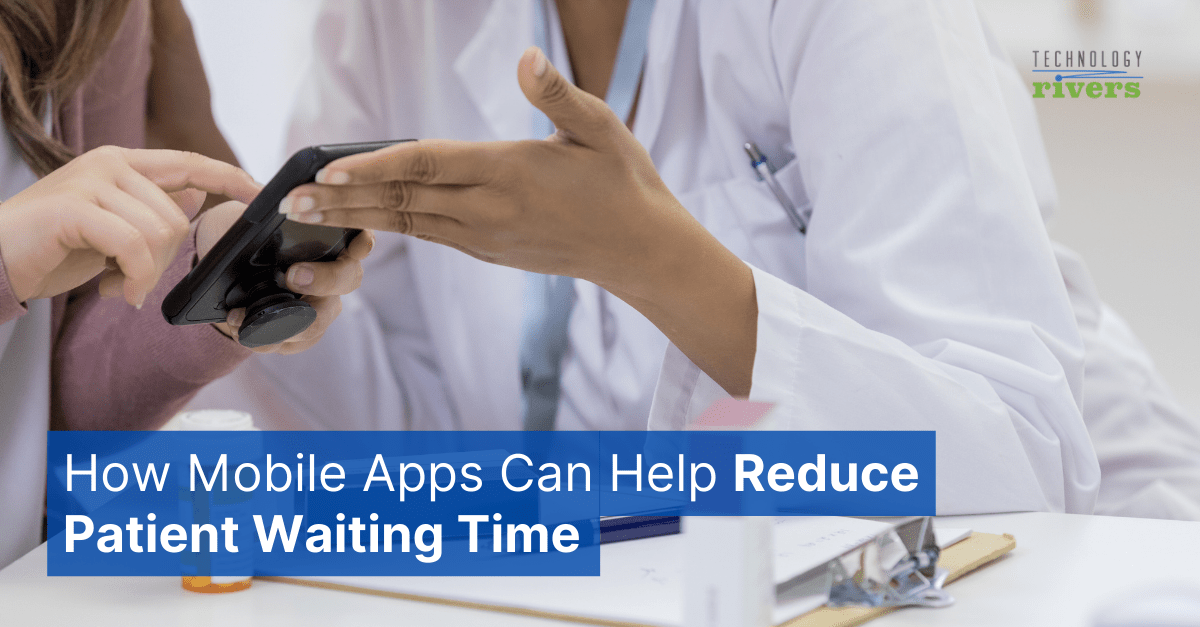 Blog » How Mobile Apps Can Help Reduce Patient Waiting Time
Patient wait time may be undervalued, but it has a significant effect on overall patient satisfaction. In a survey conducted by Software Advice, 80 percent of patients (out of 5,000 people interviewed) claimed that they would be less frustrated had they known how long they would wait at the doctor's office. Forty-one percent would see another doctor to reduce their wait time. Patients are also using online reviews to know how long they have to wait to ease the frustration.
Time is the most valuable asset that one can never get back when it's gone. Those patients could have done any important chore, or finish their favorite Netflix show, had they known they would be sitting for an hour or more in the hospital or at a doctor's office. Every lost time is equivalent to lost money, especially for employees and entrepreneurs.
Therefore, the results of that survey blatantly show that improving the patient wait time is crucial to patient satisfaction and retention. Doctors and healthcare systems must take into consideration the reduced patient wait time to alleviate any frustrations and to provide better medical services.
How to Reduce Patient Waiting Time through Mobile Apps
There are more than 250 million Americans with smartphones. Physicians, hospitals, and any healthcare providers must take advantage of mobile apps for reducing patient waiting time. There are patient mobile apps such as wait time apps and mobile queue apps designed to help improve the patient experience. This is the best time to have a mobile app developed that sends real-time updates to patients.
Improve Wait Times at Doctor's Offices using Software
A study by Harvard Medical School revealed that patients are losing an average of $43 when waiting for medical appointments. On average, patients would wait for 20 minutes while others spend more than 45 minutes. Alaska and Wisconsin have an average wait time of 16 minutes; Mississippi and Alabama with an average of 24 minutes, and El Paso, Texas with an average of almost an hour, respectively.
Patients will turn out grumpy and some would post negative comments on doctor review sites that may put off future patients. Also, 70% of surveyed patients agreed that a doctor's apology for appointment delays may help relieve the tension and 80% said that the frustration could be eased if they were told in advance how long they would have to wait.
Here are some of the ways how you can use technology, specifically mobile apps features, to cut the patient waiting time in doctor clinics or offices:
1. Gather patient health information before the scheduled appointment
Traditionally, the clinic staff will get the insurance information and patient history during the day of the appointment. But these days, you can have a mobile app feature that allows patients to fill out the form and have their paperwork ready prior to the appointment date. By eliminating the data gathering process, you can slash a few minutes off the patient's time to wait and stay in the clinic.
2. Use a mobile queue solution
You've seen apps like Uber and other food delivery apps update you on the waiting time. This is also possible for mobile healthcare wait time apps that give projected or forecasted wait times. The virtual waiting line provides real-time updates so patients can grab a quick lunch or shop while they wait for their turn. Patients will be updated if the doctor is running late or if they are running late so they can be easily replaced with other patients.
These mobile queue apps will keep patient engagement and prevent them from getting enraged, especially if there's no other way to keep them entertained while inside the clinic lounge.
3. Use telehealth solutions
Virtual care is a thing today. Patients want the most convenient services right at their fingertips. Telehealth solutions are used to streamline hospital or clinical processes to help with patient satisfaction. This can also address no-shows and late arrivals. Moreover, virtual care is possible with your physician for minor injuries, simple checkups, and follow-ups. All those can slash the time a patient spent traveling to the clinic and waiting in line.
As part of our work, Technology Rivers has done multiple telehealth solutions including Appointment Scheduling Application, Patient Care Management, and many more.
4. Consider all forms of communication
Older patients may struggle with texting and chatting, so it's better to consider a healthcare app feature that is secure and has all forms of communication.
Improve Wait Times in Emergency Room Using Software
In a study conducted by the Centers for Disease Control and Prevention (CDC) in 2015, it revealed that the overall hospital emergency visits decreased by 3% but non-urgent visits increased by 4.3%. The crowded emergency rooms led to a 5% increase in in-patient deaths in 2013, according to the Annals of Emergency Medicine. Wait times are increasing nationwide, particularly in smaller states with dense populations like Connecticut, Delaware, and New Jersey. The changes in insurance coverage and patient costs due to the Affordable Health care Act have all resulted in ER overcrowding.
It's a no-brainer that the healthcare industry is service-oriented, which needs to factor in the patient's waiting time to receive treatment. Overcrowded emergency departments will annoy patients who have to wait for hours prior to the care from a senior nurse or doctor. Patient satisfaction is always critical and proper communication with patients about the delays must be improved.
Mobile apps may not be able to address the shortage of physicians and emergency rooms, but these are what apps can fill in to free up ED overcrowding:
1. Raise awareness about alternative care
Wait time apps may work pretty well for individual physicians and small clinics but not for addressing ER wait times and ED overcrowding. However, Urgent Care mobile apps are said to have helped with hospital bottlenecks. The Urgent Care apps work by prompting and convincing patients to use nearby urgent care centers and it will alert them with wait times. This may, however, work for healthcare systems that have already partnered with urgent care clinics. Some mobile apps may also provide maps or locations to alternative care facilities.
2. Let patients know the conditions that require an ER visit
Symptoms trackers may also be used to determine what type of care is essential and to prevent non-urgent ER visits. Meanwhile, hospitals may provide a branded emergency symptoms checker app to existing and prospective patients. This app may also be updated with timely content about primary care, health tips, and a lot more. They should also provide details about what conditions and symptoms require a trip to the Emergency Department.
3. Embrace Feedback
Collecting feedback is a great way to know the overall experience and satisfaction of the patients. It's also a healthy way to promote a good relationship since the feedback empowers them to voice out their experience and what they need from the service. The mobile app should also have a feedback or review option to help the organization improve its services.
Key Takeaway: Building ER Apps to Help with Overcrowding and Waiting Time
If your organization is considering a mobile app done that will help decongest ER or ED visits and help provide patient satisfaction, here are some insights that you need to discuss with the mobile development team:
If you need a custom mobile app developed for your practice, or business, you may discuss with the developers the main problem and the mobile moments you are trying to solve. Is it when the patient has just arrived at the emergency room? Is it in their homes? On the road?
Spending a lot of money on perfecting the app is costly and risky. Your mobile developers can come up with an MVP and let them be used by a focus group to help receive feedback quickly. You also need to consider how this app will be distributed. Are you going to distribute the app among existing patients?

Conclusion
Whether you are an individual physician or a hospital/healthcare facility manager, you need to give extreme importance to patient satisfaction. Nobody wants to wait for a couple or more hours at the doctor's clinic with a bad toothache. The emergency department, however, is a stressful place for both patients and staff. Hospitals will put their credibility at risk of lawsuits when patients with life-threatening conditions are left waiting for long hours and then die while non-emergency cases are receiving immediate care. Bad feedback can mar the reputation of any professional doctor or established hospital.
While doctor's offices can offer free WIFI connection and some refreshments to keep patients entertained while waiting, a mobile app with a virtual queue or wait time feature may help patients go to the nearest coffee shop while getting real-time updates. This is also in addition to concierges and predictive patient flow simulation employed by hospitals. Mobile apps may offer features that send patients to urgent care facilities and identify the symptoms that require an ER visit.
Do you need an expert team that can build an app that improves patient waiting time and overall user experience? Talk to us today and we will help you come up with a list of features and functions and eventually build an app that helps solve patient waiting time.

Is the article helpful? You can share your thoughts by joining the conversations on LinkedIn and Facebook!