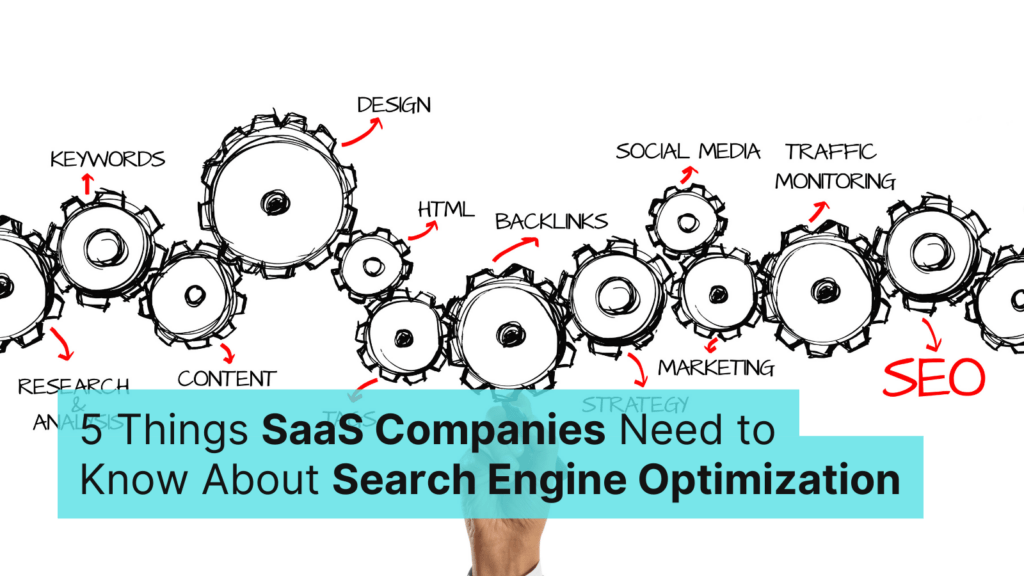 Blog » 5 Things SaaS Companies Need to Know About SEO
As the Software as a Service industry or SaaS businesses continue to grow, so does the competition for search engine ranking. If you want your SaaS company to succeed, it's essential to invest in marketing and SEO.
When building a SaaS business, it's important to understand how search engines work, how to conduct on-page optimization and technical SEO, and, of course, how to optimize your content for search. In this blog post, we'll share 5 things you need to know about search engines and Search Engine Optimization (SEO) for SaaS companies. We'll cover topics such as how search engine algorithms work, what keywords to focus on, and how to improve your website's rank in search results. If you're looking to learn more about SEO for SaaS companies, then this blog post is for you!
But first…
What are Search Engines and How Do They Work?
A search engine is a web-based tool that allows users to find information on the internet. Search engines use algorithms to crawl and index websites, and then rank them in search results based on relevancy and popularity.
The most popular search engine is Google, which handles over 3.5 billion searches per day! Other popular search engines include Bing and Yahoo.

When a user types a query into a search engine, the search engine will return a list of results that are relevant to the query. The order of the results is determined by the search engine's algorithms, which take into account factors such as keyword relevancy, website popularity, and backlinks.
So when growing your SaaS business, you need to make sure that your SaaS website is appearing in search results.
Here are 5 Things You Need to Know About SEO for SaaS Companies
Here's a comprehensive SEO guide as well as some SaaS SEO strategies.
1. Understand How Search Engine Algorithms Work
If you want your website to rank high in search results, then you need to understand how search engine algorithms work. The algorithms and ranking factors are constantly changing, so it's important to stay up-to-date on the latest SEO news and trends. One way to do this is to subscribe to a credible SEO newsletter or blog.

2. Identify Keywords to Target
Keywords are the foundation of SEO. When people search for something on the internet, they use keywords.
If you want your website to appear in search results, then you must be familiar with the keyword research for SaaS although it is the same keyword strategy used for other industries or niches. You need to identify related keywords, search volumes, and also the search intent for each respective targeted keyword.
There are a few different ways to find keywords to target and you must subscribe to keyword researching tools. Some of the most popular keyword research tools are Moz Keyword Explorer, SEMrush, Ahrefs, and Google's very own keyword planner.

Here's the keyword strategy or process for SaaS:
Brainstorm a list of potential keywords
The first step in SaaS keyword research is to brainstorm a list of potentially related keywords to your business. This could include long-tail keywords, short-tail keywords, related terms, or even synonyms.
However, long-tail keywords represent a key opportunity in on-page SEO because they tend to be less competitive than shorter, more generic keywords. By targeting long-tail keywords that are relevant to your business, you can improve your chances of ranking in search results and driving targeted traffic to your site.
Research keyword difficulty and search volume
Once you have a list of potential keywords per page, the next step is to research their search volumes and keyword difficulty scores. There are many free tools available online that can help you with this process, such as Google Keyword Planner and Moz Keyword Explorer. You can also use tools like SEMrush or Ahrefs if you want more advanced metrics.
Identify the search intent behind each keyword
Once you know the search volume and difficulty scores for each keyword, it's important to identify the intent behind each keyword. This will help you determine which keywords are worth targeting to increase organic searches and how to optimize your website for them.
There are four main types of search intent that potential customers will use to search for SaaS products and/or services:
Commercial: people who are ready to buy something but are comparison shopping
Transactional: people who want to buy something
Informational: people who want to learn about something
Navigational: people who want to find a specific website or page
Prioritize the most important keywords
Once you've identified the intent behind each keyword, it's time to prioritize the most important keywords. Not all keywords are created equal and some will be more important than others. The best way to prioritize keywords is by using a keyword matrix.
Also, you can use those keywords that complement the buyer journey or customer acquisition from the top of the funnel. middle of the funnel, and down to the bottom of the funnel.
Optimize your website for your targeted keywords
The final step in SaaS keyword research is to optimize your website for your targeted keywords. This includes both on-page optimization (such as title tags and meta descriptions) and off-page optimization (such as link building).
3. Optimize Your Website for Search Engines
Once you know which keywords to target for optimal search or SEO results, you should start doing on-page SEO, content creation, and technical SEO optimization.

On-page optimization
The goal of effective on-page SEO is to ensure that your site's best content has the greatest opportunity to be seen by search engines, while also improving user experience and helping visitors find what they're looking for quickly and easily.
Optimize your title tags and meta descriptions
Title tags and meta descriptions are two of the most important on-page SEO elements, as they help convince searchers to click through to your site. Make sure that your title tags are accurately describing the page content, and include relevant keywords where appropriate. Similarly, craft compelling meta descriptions that will entice users to click through to your site.
Use keyword-rich headlines and subheadings
Search engine spiders scan headlines and subheadings first, so it's important to use keywords here as well. This will help make your content more easily found by interested readers.
Use keyword-rich body text
Include keywords throughout the body of your content to let search engines know what your article is about. You can use keywords that appear in featured snippets, local packs, site links, and other SERP features. However, don't overdo it – too many keywords will result in your content being penalized by search engines.
Use alt tags for images
If you include images in your articles, make sure to use alt tags. These are descriptions of the image that help search engines understand what they're looking at.
Include links to other relevant articles
Linking to other articles on your website (and to external websites) helps search engines understand the context of your content and can give you a boost in the rankings.
User experience and technical SEO
In order to rank well in search engines, it's important that your website is highly usable and provides a great user experience for visitors. This includes optimizing load times, designing with a responsive layout that works across all devices, and developing high-quality content that engages users and encourages them to return over time.
4. Build Backlinks
Backlinks are links from other websites to your website. They act as a vote of confidence for your website and can help improve your website's rank in search results. There are a few different ways to build backlinks, such as guest blogging, directory listings, and social media mentions.
Submit your product to directories
This is a great way to get started with link building. There are many online directories that list software products. By submitting your product to these directories, you can get high-quality backlinks.
Create a blog and write helpful articles
A blog is a great platform to share valuable information with your audience. When you write valuable articles, people will naturally link back to your site. This is a great way to build links and drive traffic to your site.
Reach out to influencers and ask for reviews
If you have a great SaaS product, reach out to influential bloggers and reviewers in your industry. By requesting reviews or guest posts, you can get high-quality links that can help boost your search rankings.
Engage in link building partnerships
Another effective strategy for link building is forming partnerships with other businesses in your industry. Look for companies who have complementary products or services, and see if they are interested in linking to each other's sites as a way of driving traffic and increasing awareness.
Overall, there are many different strategies that you can use to build links for your SaaS product. Whether you focus on directories, blog posts, influencer outreach, or link-building partnerships, the key is to stay focused on creating quality content that will engage your audience and encourage them to link.
5. Monitor Your SEO Progress
After you've implemented all of the above SEO strategies, it's important to monitor your progress. You can do this by tracking your website's rank in search results, as well as your website's organic traffic. There are a few different tools you can use to track your progress, such as Google Analytics and Moz Analytics.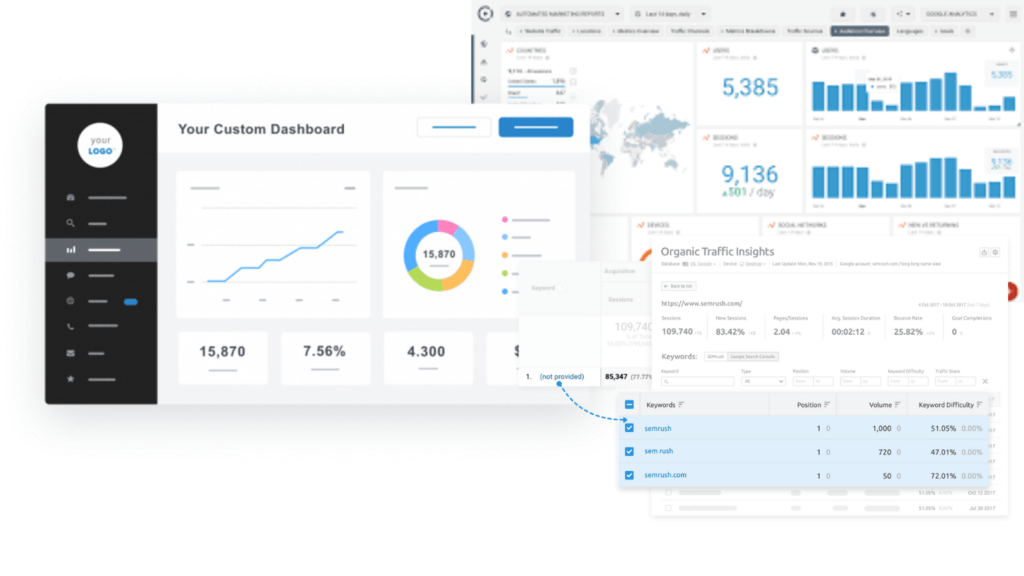 Difference Between Organic and Paid Search Results
Search engine optimization is the process of making your website gain more organic traffic and visibility for Google searches. Paid search results are listings on a search engine that are not based on organic algorithms, but rather are paid for by advertisers.
Paid search results are typically displayed above the organic results, and can be identified by the small "ad" label next to the listing. Ads are sold on a pay-per-click (PPC) basis, meaning that the advertiser only pays when someone clicks on their ad.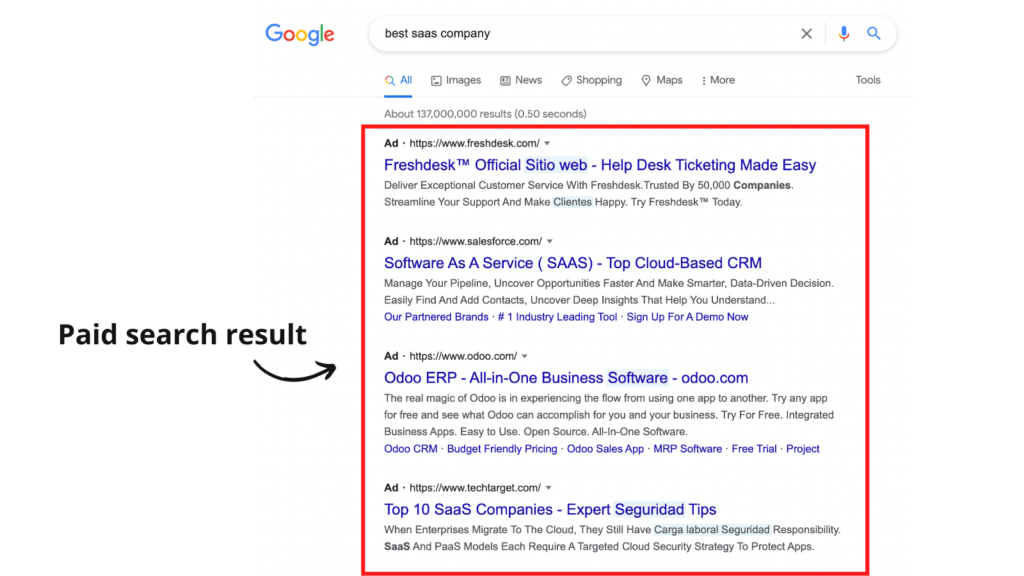 SEO is focused on improving a website's visibility in the organic search results, which are the listings that are not paid for and are instead based on algorithms. SEO involves optimizing a website for Google's ranking factors in order to earn higher web traffic levels and improve visibility. The goal of SEO is to earn higher web traffic levels through improved visibility in the search engine results pages (SERPs).

To Conclude…
SEO is a complex and ever-changing field. However, by understanding the basics, you can make sure that your SaaS website is optimized for search engines and appears in search results.
In this blog post, we've taken a look at search engine optimization and how it works. We've also explored how SaaS companies can use search engine optimization (SEO) to their advantage. If you follow these 5 tips, you'll be well on your way to optimizing your website for search engines and improving your website's rank in search results. Just remember to keep up with the latest SEO news and trends, and to monitor your progress so you can make necessary adjustments along the way.
If you want to learn more about optimizing your website for better performance in search results pages, our team can help you rank higher and attract more visitors from search engines.
Technology Rivers has extensive experience in the development of SaaS projects including SaaS-based web apps, mobile apps, and custom apps for some of the most successful businesses around.  Want to know more? Contact us today for a free consultation!
If you found this article helpful, please let us know by liking and sharing it on Facebook and LinkedIn.