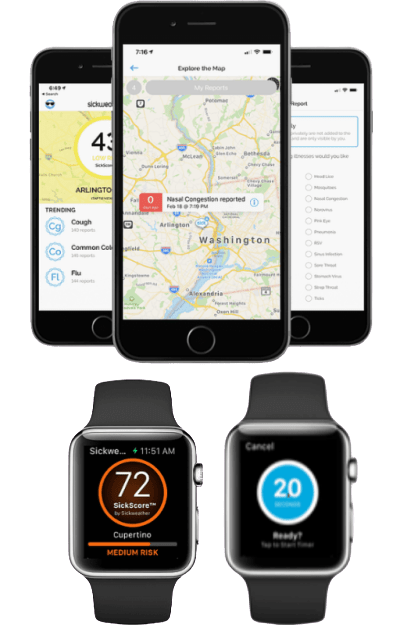 Sickweather – Illness Tracking Application
Sickweather allows you to protect your loved ones from illness. Sickweather app track illness of people through a variety of sources, including user reporting, Social media monitoring with secret sauce patented technology and different sources on the internet.
Our Work Includes the Following App Functionalities
AppleWatch and Android Wearables
Fitbit App Development
Samsung Health and Apple Health Integration
Thermometer Integration Via Bluetooth
Sickweather Analytics Platform
Every day thousands of people around the globe update social media sites like Facebook and Twitter when they (or someone close to them) get sick. Just as Doppler radar scans the skies for indicators of bad weather, Sickweather scans social networks for indicators of illness, allowing you to check for the chance of sickness as easily as you can check for the chance of rain.
Sickweather is now the largest community of its kind crowdsourcing over 6 million illness reports each month in real-time. Mobile apps and the wearable app include SickScore and a handwashing timer, in addition to the other features available on the mobile app.
Supported Platforms Include
Amazon AWS | Android SDK | Objective-C | Fitbit SDK | Android wearables | Apple Watch | Samsung Health | Elastic Search | ELK | Kibana | Logstash | MySQL | Node JS