Blog » Ripcord.io Co-Founder, Frank Tommaso, Shares His Experience with Technology Rivers
Serial entrepreneur, Frank Tommaso, and his partner reached out to Technology Rivers to create a sales coaching and training software that would allow sales teams and managers to be more involved in the sales learning process of their coworkers. Working from that idea, Technology Rivers was able to help their team grasp and identify the full scope of the application they envisioned.
After months of collaboration, this application idea has now emerged to a fully-realized collaborative team training platform called Ripcord.io.
Ripcord is now an easy to use cost-effective tool that builds a culture of collaboration between knowledge holders & new hires for companies and organizations. It is a multi-tent Software As A Service (SaaS) application that also records, transcribes, analyzes calls & online meetings, and shares the transcription & audio with teams in real-time.
Ripcord Software is Available As A:
Some of the Work and Features Include
:
Voice Call Recording and Transcription
Integration with Zoom, GoTo Meeting, WebEx, Join.me, Google Meet
Team Chat & Text Messaging
VOIP (Voice Over IP)
Inbound and Outbound Phone Calls
Slack Integration
Zapier Integration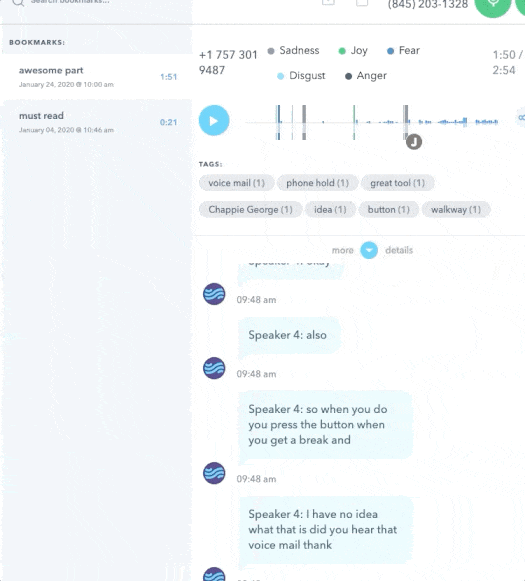 Overall, Ripcord has tons of features built around the real-time sharing of information to make organizations become better and more efficient.
The Audio Transcription – Collaborating with Technology Rivers
:
My name is Frank Tommaso. I'm the Co-founder of Ripcord.io. We're a collaborative team training software and my partner and I had an idea, several years ago, both running sales organizations where we came up with this idea of actually recording the calls real-time with real-time transcription and notifying the team managers, or the sales managers that their people are on the phone and they could just click a button then join the conversation and coach them live.

When we came to Technology Rivers, you know, we had several things that we had to really make work together; a Chrome extension, progressive web app, and… you know it has a lot of moving parts in our software. Technology Rivers was able to understand what we were looking to do and they understood the project and what the software was trying to resolve. And we're able to build things, not just to build them–just to check them off the scope, but to build what actually worked. Just the collaboration between our team and their team was just amazing. We ended up hiring them and within 12 months we completed the project.

What I like most about Technology Rivers was just working with them on a daily basis. I mean it was really truly a collaborative experience. It wasn't, you know, handing something often and receiving it back to me. It was really that that daily communication that kept the project going.

You know a lot of times you'll give your scope out and the developers will just build something. And it may not even make sense, but they'll build it just because the scope says it. That was not the case with Technology Rivers. We really just went through everything together. I'm like the typical person that would hire Technology Rivers, you know, without much technical background. So they really exceeded my expectations when just explained everything to me.

We had a short experience with another software developer and basically, it was just a big waste of time. Six months time was lost. You know they delivered three lines of code that they just didn't understand, and it didn't work well. They weren't collaborative with their clients. So, the overall experience that I had with Technology Rivers has been overwhelmingly amazing. I've referred so many clients to them since then just because it was a great experience.
Need help getting started with your next software development project? Reach out to us so we can discuss your idea!