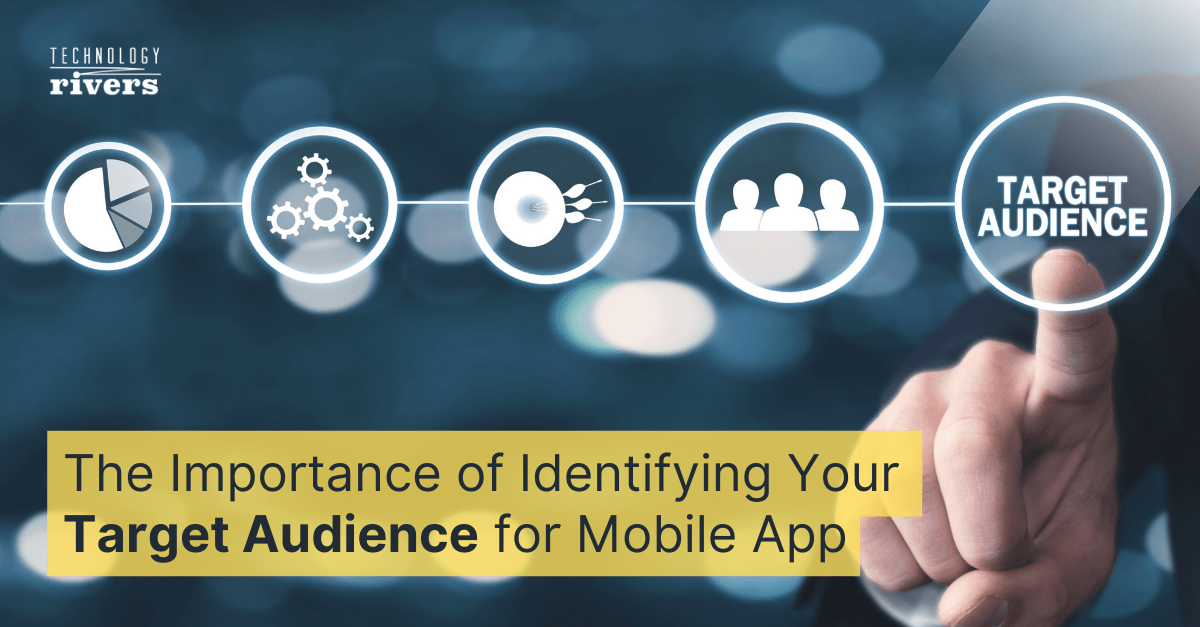 Blog » The Importance of Identifying Your Target Audience for Mobile App
The mobile app industry has had enormous growth, leading to the rise of on-demand and gaming apps. But the stiff competition makes it a bit cumbersome for some businesses to compete or even start.
These days, users have more choices of apps that will keep them entertained, do online shopping, and pay bills. All those lead to a crowded mobile app niche. But you don't want your product to get lost in a competitive and saturated market. To help you, we also wrote this article about the top 4 Ways to Find Your Niche in a Crowded Marketplace.
All the facets or lifecycle – design, development, and marketing – of a mobile app work the same as any other products or services that will require you to know your target market or your end-users first. You need to determine and consider a lot of things about your target market to create a successful, value-adding mobile app.
What Is a Target Audience?
A target audience is a group of people who are more likely to be your customers. This group shares a few demographic traits and interests in the following, but not limited to:
Age
Gender
Location
Education
Socio-economic status
Besides demographics, these are other important things to include in your audience research to know your target audience much better:
Psychographics
Lifestyle
Spending Habits
Why Is Knowing Your Target Audience Important?
Remember that creating an app comes with a price, so you wouldn't want to throw away money, time, and all of those efforts into something that will not give you a return-on-investment. You won't be building a mobile app for the sake of building it. You'll run into a problem trying to please everyone because not all groups of people share the same needs and interests. Meanwhile, it doesn't make sense to design the app for just one person, too. It has to be targeted to your ideal customers or a group of people with the same demographics, pain points, and interests.
Defining your target market will help you know exactly who you are designing the features for and how to reach out to them for monetization and marketing strategies.
Design the UI/ UX According to Your Audience's Preferences
Before you worry a lot about branding and sophisticated features, you need to consider getting more granular by creating a customer profile.
Who is the target audience?
By considering the above-mentioned demographics, you are more likely to craft better mobile app UI and UX. Now let's dig deeper for you to identify and understand your target audience more:
What is the average age of your target audience?
Age plays a key role in creating a mobile app. Older people want a simple user interface and straightforward navigation with larger text and icons designed for presbyopic eyes. Meanwhile, younger users are more responsive to aesthetically pleasing designs with an intuitive interface. Teenagers may be receptive to intricate designs and sophisticated navigation.
Comscore released the 2017 U.S Mobile App Report, which provides some interesting facts about how millennials are driving the mobile app industry and some data on how you can target your app among millennial users. First, millennials are said to be shelling out mindlessly their money on apps. Yes, they are not the group with the biggest money in their pockets, but they are more impulsive buyers compared to the older groups. Next, millennials would delete apps with ugly logos as they don't look good on home screens. Therefore, it's important to consider enhancing your logo unless you want more millennials to tick them off of their home screens.
You may check out these related articles:
Where do they live?
The location of your target customers matters. Are you targeting locals-only from your city? Are you targeting users nationwide? Are you targeting multiple countries?
If your app will cater to different countries, then you need to consider the differences in the design preferences. Asians tend to like more colorful apps than North Americans or Europeans. Not all users understand and speak English very well, so you will have to consider a translation feature.
What is their education level?
More educated users can handle more complex app features that handle various processes. Some of the apps that work well with more educated users are banking, job/employee search, and banking. People who receive less education will need a simpler interface with fewer workflows.
What is their socio-economic status?
It correlates with the education level and also involves income and occupation. This is important since people in the upper socioeconomic status have higher income levels and are more likely to be critical of the look and feel of mobile apps.
For instance, more educated and higher-income users may most likely download and use the travel related apps, such as tour guides and Booking apps for hotel rooms, airline tickets, car rentals, etc. Meanwhile, millennials and lower-income earners spend more time on entertainment types of applications.
Solve Customer Pain Points
It's much easier to create an app that simply duplicates what its competitors do. But companies or brands that have been standing tall for decades excel in solving customer pain points.
Maybe you've heard some of the most 'disruptive' brands through the ages that have transformed the way we live. Almost everyone knows Tesla for its impeccable line of electric cars that are aimed at building sustainability. Airbnb disrupted the traditional hotel and tourism industry. This platform allows property owners to make money from having their properties or condo units rented out. Travelers get huge savings booking through Airbnb compared to the costs of hotels. Apple's ingenuity paves the way for iPad tablets, iPods, and wearables that we all have today. Apple products may come in heftier price tags but people are more than willing to buy the quality it has been known for through the years.
Knowing your target market's pain points requires you to dig deeper into your customer profile and to have outside-the-box thinking. Yes, you may have an ideal customer profile for the purpose of audience analysis. But the real level of targeting is on how your app will solve real pain points.
There are four types of customer pain points: financial, process, productivity, and support. Moreover, your target audience's pain points also depend on the type of app. Mobile banking apps are reportedly causing frustrations among their users for the following reasons:
Downtime for system updates
Complexity of navigation
Payment limitations
Safety of personal and financial data
For shopping apps, these are some of the usual pain points:
Limited personalization
Safety of personal data
Difficulty in reaching out to customer service
Therefore, if you want to make a trusted mobile app, you need to factor in those pain points and be able to address them. You should start by conducting more comprehensive market research to know exactly 'what' and 'how' you can solve those pain points. You could be the first company to disrupt a traditional business and make the process more efficient and the service more cost-effective.
Create Features and Functionalities for User Retention
According to research conducted by Anadea, the average app user want these features in the app:
Personalization – There's a psychology behind app personalization. Users would want to have their app personalized that reflects their personality.
Easier Registration and Verification process – Filling in form, typing in CAPTCHA plus verifying through email annoy many app users. But what's more ironic is that they want to have their information secured but are impatient with a more secure registration process.
Safety of Personal Information – With the information users put on social networking sites, made them skeptical of the privacy of their personal data. It's important to keep your target users confident when using your app, specifically those healthcare apps that require HIPAA compliance.
Voice Control – Statista reported that Millennials are twice likely to make an online purchase using voice control than the older groups.

Prepare your App for Monetization Strategies
Your mobile app is created more than just being a tool. There's money involved in creating the app, so it makes a lot of sense to use the mobile app to increase sales and turn it into a profit-generating machine even while you're sleeping. And it's all possible if you know who you are specifically targeting.
Here are some of the reasons why identifying the types of target audiences help with monetization:
Reaching your target audience or potential customers through an ad is much easier if you know your target audience very well. There are types of ads: interstitial or full screen, notification, capture form, advanced overlay, and banner. Your insights on your present and future customer base will give you more vivid ideas on which sort of ads they prefer. Ad targeting and the overall marketing messaging can be overwhelming since not all users are tolerant of apps sliding on their mobile phones. Remember that clunky ads will ruin your customer's experience.
In-app purchases can provide more money for you. However, you need to be strategic in doing this monetization method. You need to figure out which group of users are more likely to be purchasing your product directly from the app. You should know which groups are fine with "freemium" apps or those free apps with gated features available for purchase.
Irresistible and timely content can keep your existing customer engaged and eventually attract more potential customers to your app. The content strategies will revolve on how your audience is consuming the content on your app. The reason why you need to enrich your app with fresh and relevant content is that a lot of paying users will purchase once or twice in-app and never return because they feel like they have exhausted the features of the app and they won't need it anymore.
Mobile app subscription models work almost like SaaS products. This is why it's important to have several pricing tiers with different features that are still fit for target customers.
Moreover, you need to improve the user experience at all costs. The more users are engaged, the more that they will be spending time on your mobile app. You cannot sacrifice user experience for you to make more money from the app. And it all boils down to knowing your target market.
How To Find Your Target Audience
The target audience analysis can be tedious and overwhelming for some entrepreneurs. However, others fall into the analysis-paralysis trap. Here are some strategies to help you define your target market or ideal customers:
Define Your Target Audience Based on the Type of App
Some entrepreneurs are very keen on a particular niche and are pretty sure of the mobile app that they want to build. By knowing the type of app that you want to create, you can narrow down your target customer and you will be able to strategically adjust the level of targeting.
Once you are sure about the type of app that you want to build, you may be able to segment your target audience and create a buyer persona.
How to find an ideal audience if you are clueless about where to start?
You can conduct market research yourself or hire a team of experts to do the audience research. However, here are some of the basic steps to help you further:
Determine why you want to target that particular audience. If you have an existing business, it makes a lot more sense to create an app for your business and it will be much easier for you to know your target market. For instance, you can have an app for your cleaning business and allow your current customers to use it for booking or scheduling the services.
If you don't have any existing business or are quite hesitant to compete in a crowded niche, then you may find it rational to build a mobile app for an audience with money or those who are more likely to buy your products/ services or avail themselves your app.
Know which market segment your business belongs to. Are you a B2B or a B2C business? Both the B2B audience and the B2C market audiences are different in terms of decision-making.
The B2C audience is everyday people who normally purchase products and services for personal consumption or purposes. Meanwhile, the B2B audience is also businesses, enterprises, and organizations that purchase goods and services for business purposes.

Conclusion: Why is it important to know your target audience for your next mobile app?
With the global mobile application market growing tremendously and is expected to reach $311,249 million by 2023, you should start building your app today. Business plans are great, but first thing first and that is to define your target audience. In-depth audience research and analysis will save you from making costly mistakes that will eventually lead to mobile app failure.
We can't stress enough the importance of identifying your target audience and these are:
Design the appropriate UI / UX
Solve customer pain points
Create features and functionalities that users will love
Utilize for monetization
Do you have any software app ideas that you need help developing? Turn to the experts! Technology Rivers is a group of entrepreneurial-minded product developers who can help you create the next big thing. Contact us and we can brainstorm!
What are your thoughts? You can share your ideas by joining the conversation on LinkedIn or Facebook. We would love to hear from you!