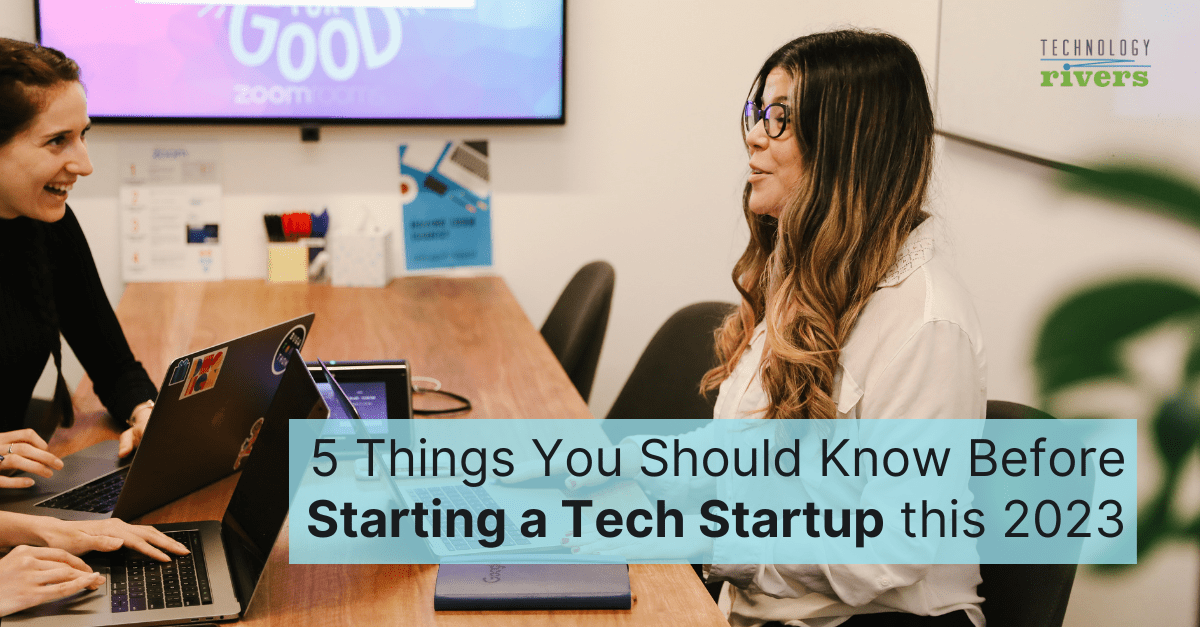 Blog » 5 Things You Should Know Before Starting a Tech Startup this 2023
Building a tech startup is not just about the right timing. It also involves establishing the best and scalable strategies that will help the startup business become a success. 
As the pandemic cripples the economy worldwide, a lot of people are hesitant to start their businesses. However, successful entrepreneurs look for opportunities amidst the pandemic. Check out one of our recent articles that talk about how successful entrepreneurs turn crisis into opportunities.
Although many are struggling, there many that have achieved a lot of growth, such as businesses in on-demand services, telehealth, technology, PPE, Ed-tech, digital learning and the likes. 
There is a lot of demand in these areas and it continues to grow. Post-pandemic world is bringing lots of opportunities, and it's time to capture these.
With the current crisis and the established 'new normal', many considerations and changes are expected to be embraced in the technology industry. Some of these changes include work-from-home setup, AI technology, and other digital transformation. 
Therefore, in every tech startup company, one should have a long-term commitment to push the business forward and to compete in the thriving market. Any successful tech company should have innovative ideas that are relevant to society.
According to some reports, the technology industry has become more rigid than in the past years. This means that only 37% of tech startups have reached their 4th year in the industry. 
As this report encompasses real-time data, it justifies that relying solely on a brilliant idea is never enough to launch and grow a successful tech company. In fact, one must learn and understand the ins and outs of the business and make sure that these strategies are flexible enough to adapt to change. 
Unfortunately, no one can predict when the COVID-19 pandemic would end and it's not giving us any hint. If you don't want your dream to be wasted, here are a few things you should know when starting a tech startup this 2023:
Innovative Idea
Remote Processes
Employee Engagement
Artificial Intelligence
Customer Support
1. Innovative Idea
As always, tech is one of the most competitive areas which continuously requires ongoing innovation. 
The world has changed since the pandemic, and with the changing dynamics, customer behaviors, expectations, and new innovative ways to solve problems are also increasing. 
As you leap into space, make sure you research and check out the competition as new businesses are coming. Some areas that may be worth exploring are:
Digital health
Digital learning
On-demand services
Remote work
Productivity and collaboration
This is also the time to review and update the existing processes to adapt to the new norm.
Check out these two articles that may give you some ideas as you are brainstorming your ideas for the new startup:

2. Remote Processes
One thing that has drastically changed in businesses would be its work setting. It's not just the tech companies that have to adjust to this change, but all businesses in various industries have to comply with safety precautions in the workplace.
One of the pivotal steps is to ensure that work productivity and efficiency are achieved despite the remote work transition. These two must be strengthened within the existing business strategy and instilled within the company culture.
However, during the first wave of the pandemic and the massive transition to work-from-home, many business owners were quite reluctant to proceed due to numerous business disadvantages. Some of these include home distractions, communication problems, and trust-related issues. 
However, these hesitations have coiled up as the 2017 research asserts that employees who worked remotely can finish their daily tasks on time, and even at times go beyond the expected working hours.
While the disadvantages of a remote business are undeniably nerve-racking for any start-up business, there are a few workarounds or solutions for a tech startup to become successful. Some of these include:
Weekly Online Huddles
Setting up clear and consistent eligibility standards
Retain the work schedules and benefits
Let employees sign an agreement for business confidentiality information
Determine and choose the necessary types of software for the company
With this, working remotely has become significant in continuing business operations. An effective work-from-home arrangement can also attract and retain the right talent for tech business. This offers flexibility and support to employees and management while still having productive workdays. 
But before achieving this, you must remember that the complete transition won't happen overnight. You also need to evaluate your overall business needs thoroughly. Your business requirements and your employees' schedules must be streamlined to create a work policy that leads to a better return on investment.
3. More Innovative Ways for Work-Life Balance and Employee Engagements
A remote work setup can dwindle employee engagement. Aside from this, the major shift to working remotely could be overwhelming for some people. Doing the workload at home might be daunting to some employees who are not used to it, requiring more energy and drastic changes in the household. 
This pushes tech businesses to think of more innovative ways in building their team. This means you have to keep your employees engaged and make them feel that they are part of a team, not just remote employees.
Many businesses have been trying to research and introduce creative ways or programs to make use of online presence for employee activities. These certain activities are great for building your team's morale and keeping their mental health in check during this challenging time of working remotely.
 Some activities that companies can initiate are:
Online team building
Virtual icebreakers
Online gaming marathons
Online hackathons
Online meditation or yoga sessions
Keeping your virtual team engaged is easier said than done. It can be difficult to execute, especially if you're not capable of doing it all alone. But you have to remember that having engaged employees can give them that positive outlook in life. Happy employees will feel happy and comfortable working in your tech Company. A good company value and culture grow through the years.
4. AI as the New Tech Company's Assistant
Artificial Intelligence, or AI, has been a trending topic for decades now, but its presence have been more significant this year as it helps any tech company with its machine learning. 
Some businesses, however, are still skeptical about integrating AI into their current system although adopting AI will help speed up the digital transition in the company, which could also be a competitive advantage among bigger and more established tech companies. 
Developing your own AI is no easy task, though. Its lifecycle including data and algorithms is meticulously programmed by experts. So if you're thinking of outsourcing your AI development, make sure you know what to look for in a partner.
The advanced AI integration can help your tech company in data collection, checking and securing data exchange, and analyzing transferred online data information. Artificial intelligence is expected to be used heavily this year, which will be developed to be a primary tool in helping tech service providers. 
On the other hand, AI is quite the most challenging competition for any human workforce as this advanced technology could substitute humans for doing mundane tasks: purchasing online, booking appointments, providing customer support, and more. 
The main reason for this shift to AI is automating various areas of operations. It's undeniable that we are shifting and transforming our services into human-like machine intelligence.
5. Customer Service Can't Be Overstated
According to a recent TechCrunch interview last March 2020, after the COVID-19 pandemic was declared lethal, many European travel startup companies had been challenged in their customer support area. 
This was caused by travel delays, rescheduling, and missing flights. These dilemmas have become a frantic trend to accept inquiries and calls from customers and clients.
In connection with this, tech startups should never skimp on providing dedicated customer support. At this point, providing customers and clients with all the assistance they need must be given equal priority, especially if you're thinking about building innovative products. 
Customer service in tech startups is critical to building a strong connection with your existing and potential clients. Besides customer satisfaction, the insights and feedback you get will help you streamline the processes and improve your products or services.
You will build an excellent reputation over time. But what's more important is you are constantly strengthening a positive relationship with your customers and you are accelerating the company's product development. 
All these efforts will turn your startup into a success.
How hard is it to start a successful tech company during the time of pandemic?
John Adams said, "Every problem is an opportunity in disguise."
The pandemic has destroyed a lot of businesses worldwide, especially traditional businesses. However, it helped delivery services to make more revenue. 
This is also a great opportunity for tech startups to build software products that will help people stay productive and make money to help them bounce back.
This time, it's important to create opportunities despite the pandemic. And one of the most important characteristics of any successful entrepreneur is being resilient. 
The pandemic, which started in 2020, brought so many overwhelming challenges for companies, especially startups to stay afloat. The crisis forced so many businesses to maneuver their strategies and adapt to the weakening economy.
The shift to these strategies should be applied to workforce, management, and product development. All these will help tech startups brave the storm by turning the pandemic into an opportunity to create more and do more.
Conclusion
Now that we have already identified what you should do before launching your Tech Start-up, it's already safe to acknowledge that there are ways to thrive this 2023. Though there are a lot of challenges to face, such as stricter competition, surviving in a global economic crisis, and staying creative as much as possible. 
Also, take note that you must make your website and tech portfolio enticing and with substance as you start. In securing this, you are increasing the probability of getting more attractions from clients and customers.

Do you have software ideas but are not sure how to start? Make sure you partner with a firm equipped with knowledge in the software development and entrepreneurial space. Reach out to us. We can help you brainstorm.