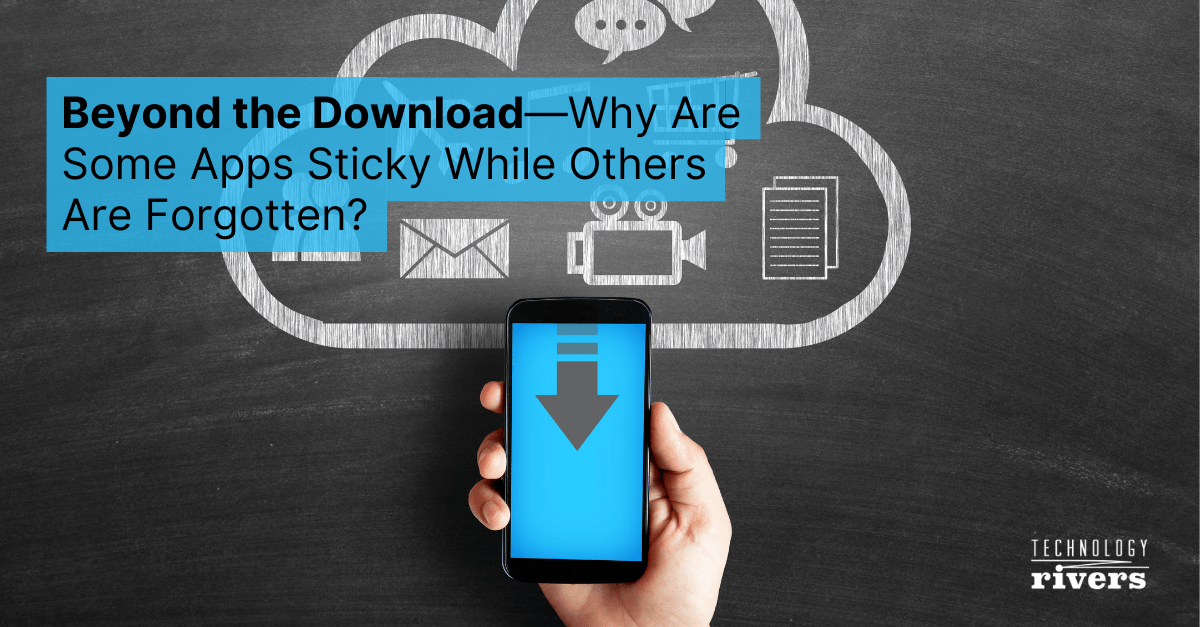 Blog » Beyond the Download—Why Are Some Apps Sticky While Others Are Forgotten?
We all have downloaded apps that we have never gone on to use. Others we try only once. What is it that makes for a sticky app? What features provide staying power, and what spells failure for retention post-download?
In addition to the tips and strategies covered in this article, we're also sharing ideas about the ways you can battle mobile app competition and some of the tools to track and monitor the progress of your application so that you can work in implementing these strategies. 
The digital world is competitive. We all know that. With so many options to choose from, you have to make yourself stand out if you want people to download your product. But what about after it gets downloaded? If you thought the competition was behind you, I have some bad news. It's only just begun.
Even after an application is downloaded, chances are it will soon be abandoned by the user. So, what is it about some applications that keep users coming back again and again? What makes some apps sticky while others fail to make an impression, or worse, make a negative one? You have already put in the resources to develop the right interface and a stellar experience. What can you do after that to ensure your software will be successful? 
The Competitive Environment
The Apple store grows by 1,000 apps each day. Getting your product out in front of people and convincing them to download it is a feat in and of itself, and when you launch, user acquisition is the first goal, right? We also discussed in this article the App Store Optimization tips you need to know upon launching. Once an application has been downloaded, how likely is it that it will go on to be used, used often, and used over a significant period of time?
A quarter of users will abandon an app after a single-use. We'll get into the "why" of that statistic later. For now, let's just take a look at exactly how difficult app retention is after the download. 
Most applications lose 77 percent of their daily active users in the first three days after it gets installed. By the 30-day mark, most applications have lost 90 percent of their users. A year after download? By then only four percent of apps are still being used. 
It's exciting to see that users are downloading your software, but the above numbers illustrate why looking at downloads alone is not enough. In fact, looking at downloads alone will likely provide a very inaccurate picture of your application's performance. 
So, take a moment to celebrate your application getting downloaded, and quickly move on to looking at things like how many people are using your application each day, how long they use it for, and how often it's getting deleted from users' phones. We'll cover what metrics you should be measuring in a bit.
Before we move on to what makes users either stay or leave, it's important to note that keeping current users is more economical than getting new ones. The current user acquisition cost is $3.52, and it is continuing to rise. Increasing user retention by five percent can increase profitability by 75 percent. So, shifting your focus from acquisition to retention is the economically smart thing to do.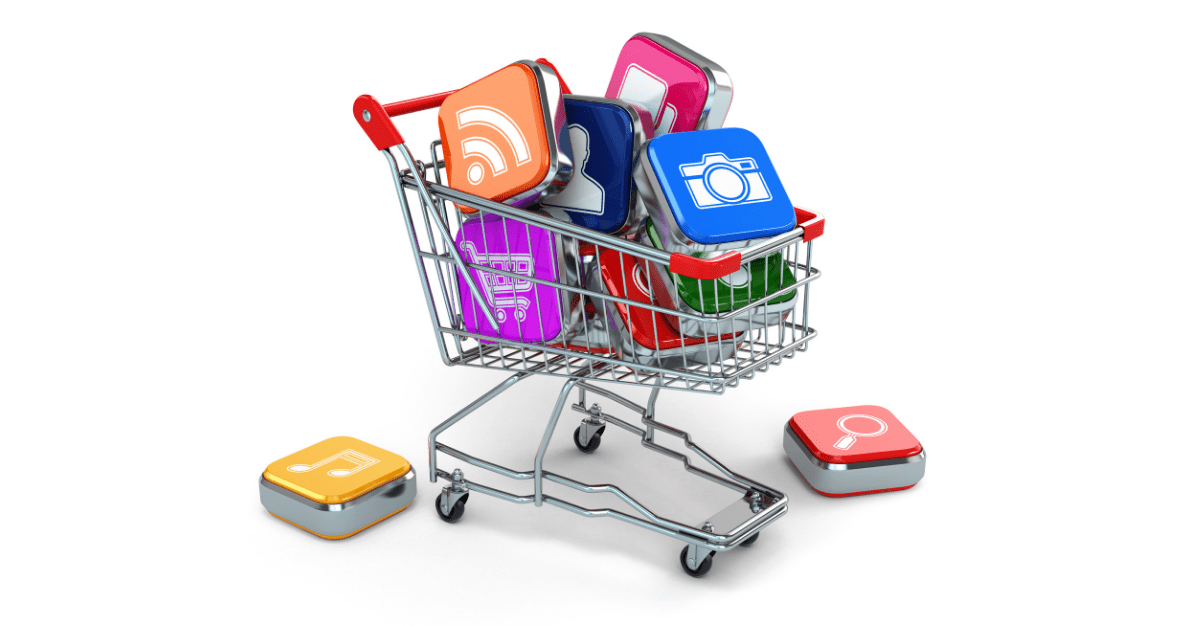 Strategies for Adding Stickiness
Users are downloading your product, which means it already has a lot going for it. It is clearly addressing a need or problem that people are trying to solve. The fact that you have made it to this point indicates you've likely spent a lot of time and resources perfecting the User Experience and design aspects of your product. So, what is it at this point that separates the sticky apps from the non-sticky? You want your app to be like a new strip of Velcro. All potential users are the loopy, soft side. Your app is what needs to have the hooks to make users stick. Think of each of these aspects of your software as another hook that makes it stickier. 
1. Onboarding Made Easy
The onboarding process is like your first date with your user. They have already swiped right on your profile, and now you are meeting in person. Everything has to go perfectly if this relationship is going to make it! No pressure. Much like a first date, you and your user have to click. Your interaction should feel effortless and easy. There are a number of ways you can help make this happen. (This is also where the first-date analogy sort of breaks down.)
2. Try Before You Buy
In order to keep users onboard, you need to immediately show them the value of your app. They downloaded it because they thought it would help fulfill a need, and you need to show them as quickly as possible that it will indeed fulfill it. Anything that slows you down from showing the product's value makes it more likely the user will lose interest (yes, humans are fickle and impatient creatures).
Things that can slow you down include long tutorials, requests for information, long sign-up procedures, and too much information all at once. If your application lets people search for waterfront properties, let them go ahead and search. If it's a game, let them play. The fewer obstacles to getting them to experience the value of your app, the better. Give the user a little something before they have to give you anything.
3. Ask Only for What You Absolutely Need
The tricky thing is that you likely need some information or access in order for the app to function. If your app is location-based, you need to know where the user is located. If it involves photos, you need access to their camera. In the beginning, ask as little as you need to in order to get started. If you don't absolutely need their email address, don't ask for it before they experience the value your solution provides.
It sounds odd, but regarding permissions, you want to ask as early or as late as possible. If your application cannot provide value without a piece of information or access, ask for this right away. In fact, if access or information is denied, let the user know that the software cannot work for them and why. On the other hand, if you want them to create an account using their email address, or if you want to send them push notifications (but it's not necessary for your app to function), ask them for this only after they have had a chance to explore the product and see its value
4. Streamlining the User Experience
It's critical that you make your app easy to use the first time. Of course, you're excited about all of the features and capabilities, but your user does not need to know about all of them right away. Show them the basics of what they need in order to give your mobile application a try, and that's all.
Give users options that make using the app as simple for them as possible. Let them choose whether they want to sign up using their email or social login. Remove as much friction as you can. If you want to read more about how UI/UX design can make or break your application, then you may want to read this article.  
5. Just the Right Amount of Communication
The key to user retention is a user engagement, and in order to engage, you need to communicate. When you communicate with users (at least if you're the one initiating), you're walking a fine line between providing them with helpful reminders and annoying them so badly they delete your application.
We have all been on the receiving end of unwanted or excessive notifications. It can make you feel like you're being stalked. I am, actually, currently being stalked… by the Duolingo owl. If upon seeing that little green owl you are flooded with anger and shame (and possibly fear), you are not alone. Duolingo might be a great program for learning languages, but if there are more than 20 memes about your cute little language mascot that include the word "murder," chances are people don't think he's very cute.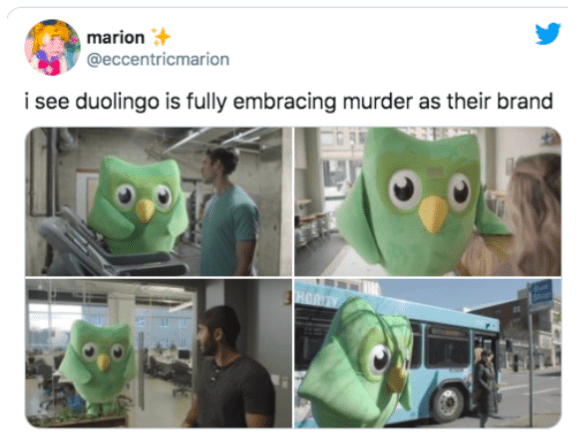 6. Strategic Use of Push Notifications
Push notifications can be a great way to engage customers with personalized content. In fact, push notifications have been found to boost retention rates by 20 percent. That doesn't mean that all push notifications are good. They have to be relevant, and it helps tremendously if they are personalized. Research shows that personalized push notifications can increase user retention by as much as seven times. 
Timing of these messages is important, as is not overdoing it (I'm looking at you, owl). Blasting users with generic messaging is a major cause of uninstalls, so make sure you find the right balance of relevant, helpful, personalized information for your users. Also, if push notifications aren't crucial to your product's purpose, always make it easy for users to opt-in or out.
7. Leverage In-App Messaging
In-app messaging is another way to engage users. Research shows it can grant a software 27 percent more launches and 3.5 times higher user retention. It's another way to reach out to customers with personalized information. In-app messages are especially useful since they allow you to send messages based on specific actions the user is making while using the application.
If, for example, the user is exploring a feature they have not used before, in-app messaging can be a good way to provide a brief explanation. This way you are not bombarding users with too much information all at once, but ensuring they get the information they need when they need it.
8. Let Users Choose How They Communicate
Users are used to being able to communicate how they like and when they want. They will expect this of any app they use, as well. Omnichannel communication options are a necessity. Users should be able to communicate with you via any channel, and your job is to make it as easy as possible. 
Communication does not go in only one direction. Encourage your users to get in touch with you, and make it easy for them to figure out how to do so. Everyone likes to feel heard, so make sure your customers know that you value their feedback by making it simple for them to provide it.
9. Keep Up the Relationship
It's important to engage your customers, and then it's important to keep them engaged. Ultimately you want your engaged customers to become referral sources. Continued communication is a part of continued engagement, but sometimes you need to up your game. Here are some strategies that can be used to further engage customers or even re-engage those whose use has tapered off.
10. Consider Incentives and Loyalty Programs
Offer perks to your longtime users. Whether it's discounts or early access to a new feature, it's a way to let your customers know that you value them. A loyalty program is another way to show your appreciation to your dedicated customers. It can take the form of gaining loyalty points toward purchases or receiving specialized content because you're a "gold-star" user—either way, it sends the message that you appreciate your customer.
11. Reap the Benefits of Gamification
Mobile games retain 36 percent of their customers after the first week, which is a lot better than most other categories of mobile applications. It can help non-game applications to take some lessons from the game-app playbook. By adding game-like features, you can make your program more fun and more rewarding. Get points for reaching your fitness goals, or level up after reading ten articles. Working some fun and game psychology into your product can be a great hook.
12. Let Social Media Work for You
The most popular solutions are for social media platforms. Use this to your advantage. Your users are already using social media platforms to talk about what they are doing. Make it easy for them to post about using your app while they are using it. It's another level of engagement for your user, and it's a great way to spread the word about your product. Win, win.
13. Continually Make Improvements
The biggest mistake you can make is considering your app to be a finished product. It's never finished. It can always be tweaked, improved, and grown. Have you ever considered an app in the app store and noticed that the latest version is from a year ago? It immediately makes you think that nobody is really paying attention to it. Nobody wants to download a static app whose creators have moved on to something else. Keep your creation current, fix any problems, and let users know about it.
14. Make It Easy for Users to Give Feedback
A good way to make your customers feel that you value their opinion and make sure you catch problems right away is to make it obvious and easy for users to leave feedback. It also makes it clear that you value two-way communication and want to meet your users' needs.
15. Release Frequent Updates
Make updates to your application often. It shows that you have a vested interest in it and in your users and that you always see room for improvement. These changes don't have to be huge. Small, continual improvements demonstrate that you're paying attention to comments and have not moved on to something else, leaving your users behind.
Measuring Stickiness
Now that you know how to make your app as retentive as possible, how can you measure just how sticky it really is? Are we talking "jam on your hands" sticky or "bug trapped in a Venus flytrap" sticky? You have to measure how users are responding to your application. This goes well beyond downloads and daily active users and into tracking where users are leaving your application and the path they take through it.  
For an in-depth look at what metrics should be tracked and some of the tools that can help you, refer to Important Metrics & Tools: How to Measure and Improve Mobile App Performance
How does one make certain they have a sticky mobile application? Provide a streamlined onboarding experience that shows value before asking the user for a thing, communicate with your users with the right message at the right time, and provide incentives for your loyal users and easy ways for them to recommend your software on social media. Finally, make sure you fix any problems and encourage users to report them and give suggestions. Make updates, then start over and do it all again!
Nobody wants to go through all of that trouble creating, testing, and honing a great product only to have users abandon it after a single-use. The digital world is extremely competitive both at the app store level and post-download. In order to provide a successful product that attracts sustained use, you need your product to be as retentive as possible.
Therefore, if you have an app idea but you're worried it might not be as sticky as your competitors, find a partner that will help you build and launch the application that you want. What are you waiting for? Get in touch with us today! We can help you brainstorm. Remember, if you have any software idea, the key is always to start immediately and launch.