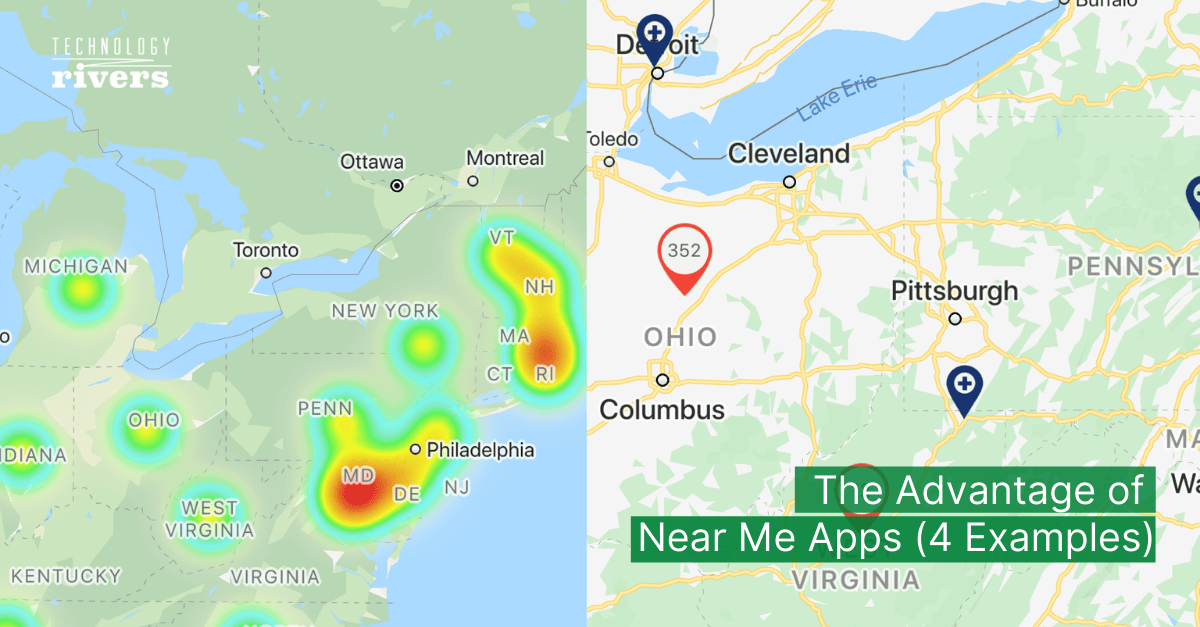 Blog » The Advantage of Developing Near Me Apps
From delivery to on-demand services to travel to relationship building, location-based apps reach across verticals to make everyday life easier. And, even with scale, your users are always local to their location, meaning you shouldn't underestimate the advantage of near me apps.
Use Near-Me Searches to Your Advantage in the Marketplace
Over the past several years, "near me" searches have exploded on search engines, including Google and Bing, and apps such as Yelp, Groupon, and Uber. Local SEO has become an increasingly important part of most successful businesses' marketing plans. To put a number to that claim, Google Consumer Insights saw a 900% increase in "near me" searches from 2013 to 2017 and that number has continued to rise.
To say that's significant growth would be an understatement. It has changed the game in application development.
When users turn to Google, Bing, or even Facebook, they're often looking for on-demand services and information near where they are in that moment. It may be their hometown or they could be on the road –– either way, their GPS or location services are likely turned on, and search is tuned in to find the answer where they are right now.
But, what does that mean for you as an entrepreneur when you brainstorm ideas to build an application to disrupt the marketplace? How can you take advantage of near me searches to put your app on the radar?
Think about a few of these household names: Uber, Waze, Foursquare, Hinge, The Weather Channel, DoorDash, Instacart, Groupon, Yelp. What do they all have in common? They rely on location-based data to customize their users' experience. From services available to site-specific offers to personal connections, these apps rely on a users' location to power the value they bring to the marketplace.
The reality is, all users are local. When using an app to make life easier, simpler, or more efficient, users need an answer they can use now. That means connecting them with a person, service, or information that finds them where they are. When a user searches for "food near me," your food delivery app needs to populate on the first page of search results.
The more locations that an app can scale to, the faster it will grow and the more successful it will be. In a near me driven world, an app is only as good as its ability to find itself where its users are. That accessibility is what Google and users value.
How to Build an App that Utilizes Near Me Searches and Location-Based Services
When it comes to the technicalities of building an app that utilizes location-based services and takes advantage of near me searches, we're going to get into the step-by-step in a future post. Building and launching isn't the hard part if you have the right skills or hire the right team. The key comes in having the right team or partner to help you handle the complexities of growing and scaling.
You need to bring someone on board with the strategic skills to see the big picture –– that includes the know-how to build not only an application that will resonate with users but a road map to scaleable, successful growth and experience securing the necessary funding. The right partner understands your vision, your target audience, and is capable of creating a user experience that could mean the difference between a download of your app or one of your competitors.
Plus, this partner will have the ability to look at user usage behavior as your app grows and adapt the experience accordingly. What your users need today may not be what they want tomorrow. A good partner will have the know-how to utilize strategic thinking. And, they know when to utilize machine learning to make continuous, near real-time adjustments to the user experience.
These qualities are the difference between an Uber or Lyft and the hundreds, if not thousands, of other apps that tested the market and got lost in the universe. And, what startup founder's goal isn't to be the household name?
Let's Look at a Few Near Me Apps and How They Utilize Location-Based Services
As part of our work, we have created numerous location-based applications. Let's look at a few near-me apps from our portfolio and how they utilized location-based services.
Sickweather: Illness Tracking Application
Trying to stay healthy is top of mind right now. Sickweather takes advantage of near-me technology to scan reporting and social media sites for mentions of illness. It works just as Doppler radar scans the skies for bad weather.
Plus, Sickweather now has data on COVID-19 and cases that may be near you.
Using your location, Sickweather lets you know when the chance of illness near you may run the highest. It also indicates what kind of illness is trending in your area. This health-focused app provides a 360-degree experience with the SickScore feature, a hand-washing timer, and more.
Sickweather has been featured on Today, Fast Company, NPR, Mashable, and more.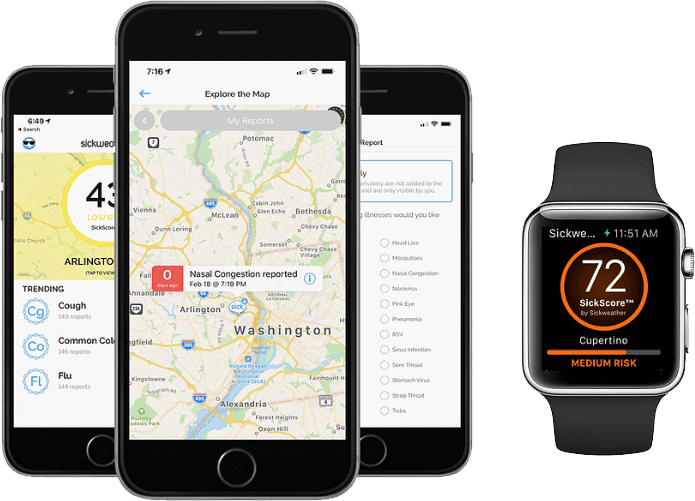 On-demand food delivery apps are consistently ranked among the most-used in the app store. This food delivery mobile app allows college students to earn extra money and hyper-focuses their location exclusively to their own campus. It allows university students to pick up food ordered by other students within their dorm. These students can access the dorm itself, rather than leaving the food at the front door.
This value prop capitalizes both on the focused student too busy to walk downstairs…and the student enjoying a lazy Sunday
Silver Stay: Find Assisted Living Communities Near You
Silver Stay connects people in search of short-term assisted living space with the communities that have available rooms. This application enables short term rentals in assisted living communities while complying with HIPAA regulations. This application functions like an Airbnb for short term assisted living communities.
This app is like a uber for voters. It utilizes location-based technology to connect voters with nearby volunteer drivers able to provide rides to polling stations and back home.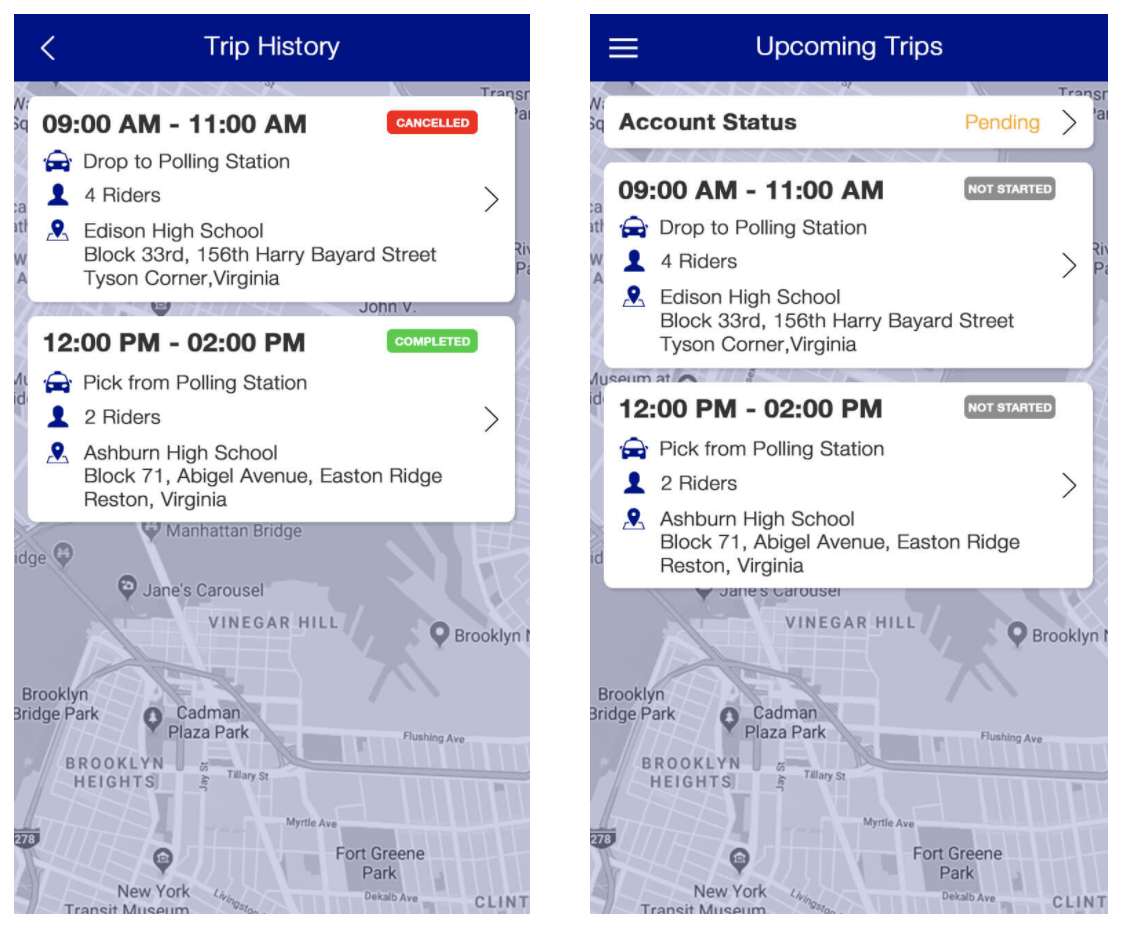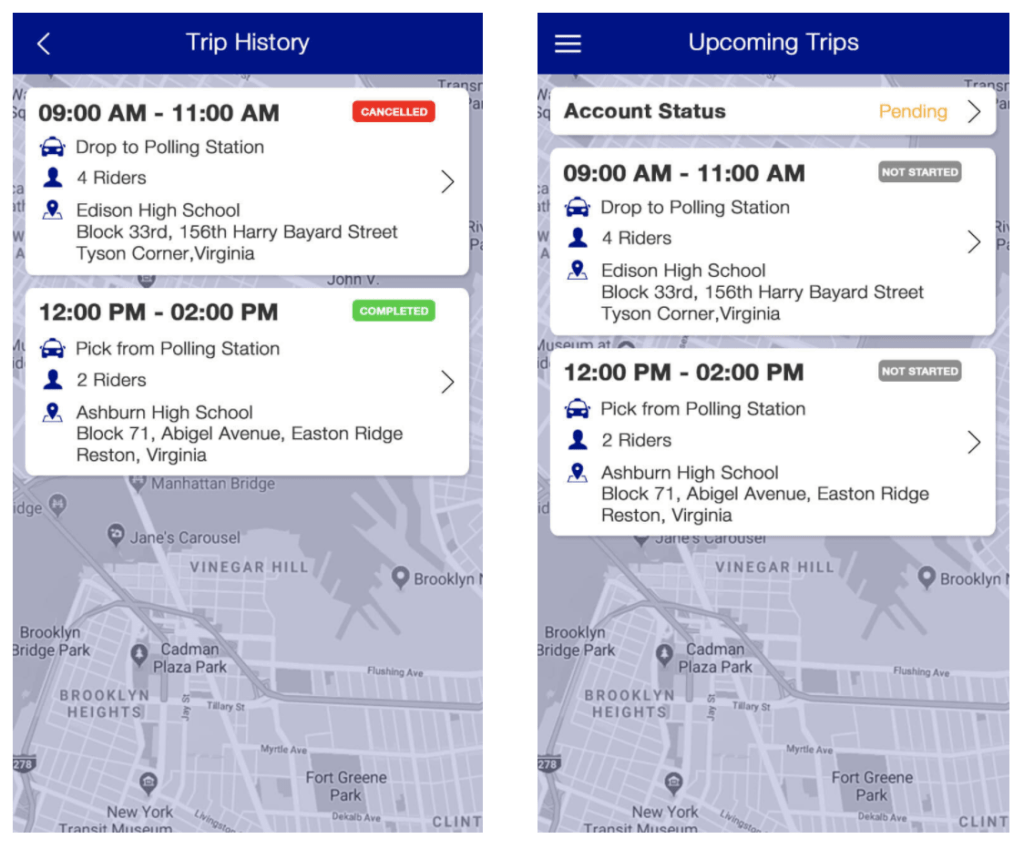 The Advantage of Near-Me Apps Is In Their Ability to Grow and Scale With Users
When you look at the advantage of a location-based app, it's the ability to grow and scale as it expands from city to city. And, it taps into the experience of those hired to lead the process.
You need an idea that makes a bold impact in a saturated marketplace. You want to hire savvy developers with sharp creative thinking skills and a mastery of game-changing user experience. But, the difference between an app that does okay and one that becomes the next Uber is working with a partner that can help you grow and invest in a vision that expands past your city, state, and maybe even country. Your limit is as far as location-based services reach.