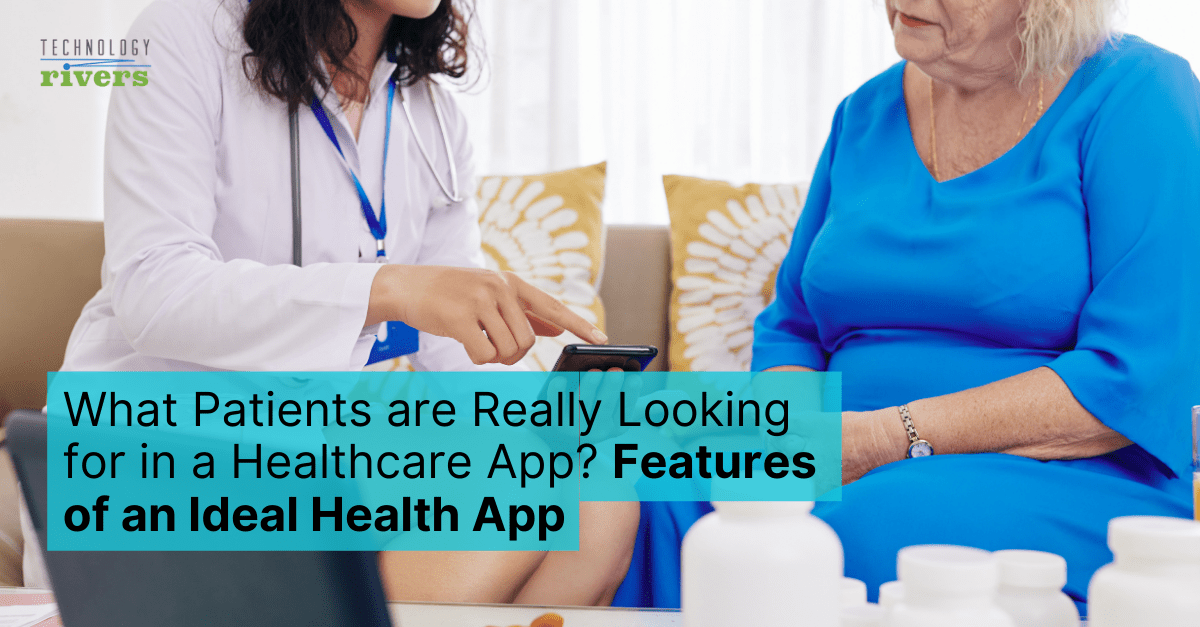 Blog » What Patients are Really Looking for in a Healthcare App? Features of an Ideal Health App
With the exceptional growth in technology, the healthcare industry is one of those that benefit incredibly from the development of mobile healthcare apps. 
The COVID-19 pandemic has shaken the world tremendously and has challenged the entire healthcare industry. Keeping up with the increasing number of people succumbing to COVID and the patients affected by the virus have been the biggest challenge for the healthcare sector. Most hospitals have limited the number of patient visits to prevent the spread of the Coronavirus.
However, thanks to the digital shift where digital health solutions and mobile healthcare apps are revolutionizing patient care. Most users are on mobile devices and many patients are now relying on healthcare apps to connect with doctors or medical providers for consultation and remote healthcare.
Healthcare Mobile App Features that are Beneficial to Patients
Many patients utilize their mobile phones to access healthcare-related information based on their individual needs.
The benefits of mobile healthcare apps include:
Improved patient-doctor communication
Easy access to healthcare
Increased patient engagement
Improved health information system
Ease of use and convenience
Therefore, mobile healthcare applications are the most cost-effective, time-saving alternative to meet the increasing care demands at medical facilities amid the inadequate amount of healthcare workers. They improve collaboration and communication and provide an exceptionally small room for errors.
There are healthcare apps out there that can be easily downloaded through Google Play and Apple Store. But before getting your mobile app developed, you have to consider the features that both your potential and existing patients are looking for.
What are the features that make a great mobile health app? What kind of features do patients look for?
Appointment Scheduling
Did you know that missed appointments lead to $150 billion annual losses in the U.S. healthcare system? According to a study by Gloria Mark of the University of California, a front health officer attending to both in-person queries and phone calls will take him or her about 24 minutes before he can go back to the original task. 
The room for error is quite big. This is why doctor appointment or medical booking apps have been the fastest evolving mHealth app in the market.
Anything people can do online speaks of convenience. The appointment scheduling system improves staff productivity and benefits both doctors and patients. 
An online scheduling system is a time-saver that's easy to navigate and is available 24/7. Not to mention, it also decreases costly errors and mistakes due to distractions.
For patients, the ease of booking means a lot to them since they don't have to wait for hours at the clinic and endure being put on hold. Patients can book their appointment, change the schedule, or even cancel them. Moreover, doctors will avoid missed appointments and they will be able to provide a more enhanced customer experience.
We have created multiple healthcare projects including an appointment scheduling app that lets patients book an appointment with a medical professional through an online scheduling system.
Reminders and Notifications
80% of patients with chronic conditions prefer that they will receive a text message or a phone call to remind them of their appointments. In addition to scheduling, patients would like to be reminded of many things including:
Medicine time
Appointments
Schedule follow-ups
Prescription renewals
Frequent Vitals checks and many more such features. 
As part of our Remote Patient Monitoring applications, we included a feature that applications send a text message to patients whenever they missed checking their blood pressure, weight or any other vitals that are necessary to be tracked.
Telehealth / Patient-Doctor Video Conferencing
Telehealth adoption was gradually increasing, but skyrocketed after the COVID-19 pandemic. Telehealth video consultation is not only saving time and money, but also resulting in the safety of the patients and healthcare providers by reducing the in-person contact. It also limited the location barriers. Now, both doctors and patients can be anywhere in the world.
In a nutshell, these are some of the benefits of video conferencing for healthcare practitioners:
provide continuity of care
reduce the hassle among their patients
remote care for patients in rural communities
coordinate easily with other specialists.
For instance, a patient who just had surgery and needed a routine wound follow-up checkup would no longer need to travel and wait in line just to get a 5-minute talk with his physician that he is "already in the healing process." 
The doctor can provide a virtual consultation to help ensure the continuity of care and prevent any complications.
Yes, telemedicine video conferencing saves time and money for both doctors and patients. This video calling feature between patients and doctors is significant these days when the COVID-19 crisis is still a serious health risk. Hospitals and doctors can use this feature to cater to patients remotely since some of the visits can be fulfilled online.
Above all, this innovation can help under-served communities to access healthcare services. These health apps have a great impact on those living in rural areas to receive remote mobile healthcare.
Similarly, in one of our previous healthcare app projects, we created a telehealth app that includes patient-doctor communication through video conferencing and messages, allowing healthcare providers to read and monitor patient's data remotely.
Prescription Tracking
Keeping on top of this medication schedule can be grueling. A thorough checklist and pillboxes may come in handy, but what if you also need some more pills, injections, etc.?
This prescription tracking feature among medical apps is a lifesaver.
Prescription tracking apps have a set of reminders to alert you and help you stay on track with your medication schedule. Some apps also offer family interaction to remind the patient and never miss any medication, especially if there is too much to take.
Another essential thing that patients are looking for in a healthcare app is the ability to easily locate which pharmacy offers the best prices for their prescription and some prescription tracking apps have this feature.
So, these medication management apps work in such a way that patients have to input personal information and also some data about the medications they need to take such as the dose, frequency, and timing directions.
Wearables Integration
Along with the massive scale of digital transformation in the health industry, the remote-monitoring technology also offers wearable devices that have artificial intelligence to collect data including your heart rate, calories burned, weight, distance traveled, sleep stages, location, and even the number of steps.
The aforementioned features give physicians data and the right information they need to assess if the patient may face a potential health problem. This also boosts adherence among patients to take good care of their well-being knowing that their physicians can monitor their activities and their vital signs.
As part of our healthcare portfolio, we have created multiple applications that integrate different wearables, including with Fitbit, Apple Watch, Android wearables and Nokia Go Tracker. 
One such application is Sickweather Illness Tracking Mobile App which is integrated to a wearable technology that helps detect indicators of illness in your current location.
Wearables are playing an integral role in chronic disease management and diagnosis. However, patients are no longer required for in-person consultations since monitoring and checking can be done digitally through the integration with wearables.
Heart rate monitoring is also another cool feature in wearable technology. It monitors the heart rate and notifies if there's a concern detected. It is extremely beneficial in monitoring those people suffering from heart-related diseases and high blood pressure.
In fact, the integration with wearables is said to be promising in helping medical providers with decision-making and increasing the accuracy of data captured from the wearable devices.
Some wearables today also act as monitoring for the elderly that help with fall detection. The real-time data alert physicians and care team to provide early intervention as much as possible.
Wearable technology will continue to surge as mobile healthcare app developers continue to add breakthrough integrations. Insider Intelligence research states that in 2022, there will be over 84 million of healthcare mobile app users. It is also expected that the wearable market will reach $20 billion by 2023.
Symptoms Checker
According to a survey conducted by Philips, 40% of Americans are relying on websites and mobile apps for symptoms checking. The availability of symptom checkers has saved patient's time and money. And with the acceptance of these health applications, even doctors are also incorporating this feature into their websites and electronic documentation.
More and more people are utilizing the Internet to support their health and find a better way to self-treat especially now that medical practitioners are scarce and hospitals have a lot on their plates. The use of symptoms checkers is now widespread and this cutting-edge technology is starting to gain acceptance across the globe.
Health Tracking
Being healthy is a lifestyle, but maintaining a balanced and healthy lifestyle becomes more difficult in this modern day. This is why most health apps have artificial intelligence that's designed to keep track of the person's fitness activities, mental health, eating habits, etc.
According to studies, these kinds of apps can greatly encourage people to boost their physical activities, manage their weight and nutrition, and even help eliminate smoking and excessive drinking.
Health trackers also come with notifications and reminders to help people stay on track of their health goals, manage their health concerns, and alert them. 
These alerts include doctor's appointments, workout routine, medication reminders, test results, preventive services and care, and a range of other medical needs.
Health notification and reminders improve collaboration between the patient and the caregiver. Productive interactions are crucial to the collaborative paradigm to achieve better clinical outcomes.
All these reminders come through push notifications. This is a feature that makes it much easier for extremely busy people to get reminders about their mealtime, workout sessions, activities and the likes.
Health Education
Chronic diseases are said to cost $2.7 trillion in annual US health care spending. This is why healthcare mobile apps are seen to help prevent and slow down the progression of chronic diseases. One of these efforts is the proliferation of relevant and timely health education through the help of mobile apps.
Health education is a crucial feature and this generation benefits a lot from health apps where they can easily find the information that they need to better understand their bodies and the science behind it.
It's important for users to have access to information about nutrition, exercise, mental health, the human body, and other wellness topics. Users also need information about diseases and their treatments or management.
A great health app offers medical reference, anatomy, terminology, and even access to journals, statistics, and literature. These are extremely helpful to medical students as well. It can educate anyone willing to learn and be informed.
As part of our portfolio, Technology Rivers has created a Breast Cancer App that provides breast cancer patients information through diagnosis and treatment, and a Kidney Donor App that guides donors for their follow-ups and appointments.

Accessibility
In today's time, patients expect their data to be available everywhere. Cloud solves this problem and nowadays most apps store their data on the cloud, and make it available to users everywhere they have internet access. Many patients prefer that they get quick and easy access to their data via the cloud.
Benefits of Cloud in Healthcare Apps:
Improved operations
Scalability and flexibility
Improved internal collaboration and communication
Reduced operational costs
Agile, innovative, and optimized
However, the benefits come with its price. Any PHI data on the cloud requires HIPAA compliance implementation on the cloud as well. All health or medical mobile apps must ensure data security and data protection.
HIPAA-Compliant
Patients need to ensure protected health information so that their personal information won't be compromised. Many patients are critical about the medical data they share since they are also used for insurance coverage.
HIPAA (The Health Insurance Portability and Accountability Act) serves to protect sensitive personal information and patient data. Any application that accesses PHI or Personal Health Information must comply with HIPAA regulations and security standards.
Check out this article that talks about Things You Need to Know in Developing HIPAA-Compliant Healthcare Software.

Conclusion
While patients look for three basic qualities of a healthcare app — access to medical records, ability to schedule and cancel appointments, and request for a prescription — they also prefer all these features available in just one app so they won't keep two or more separate apps that can take up their phone's memory.
However, the features of mobile healthcare apps have been challenged during the height of Covid-19. As the pandemic continues to affect the world, the healthcare industry is struggling to keep up. 
Patient growth is a big challenge for all healthcare professionals. The traditional handling may no longer be effective today but with the help of a mobile healthcare app, the paper processes and other procedures can now be eased.
More and more people are in search of better digital health solutions. We can further witness the steady growth of mobile healthcare apps as they become increasingly in-demand. With this, mobile healthcare apps development teams need to consider individual needs, especially among modern consumers. They will always be in search of detailed and actionable information, easy communication features, access to functionalities, excellent user experience, wearable integrations, and a patient community.
App developers must create a Minimum Viable Product or MVP development that has all the basic features and must get actionable insights from the users themselves in order to develop a better app.
To sum up, these are the features that you should consider when planning to have your next mobile healthcare app developed:
real-time video conferencing with a physician
send images, messages, and laboratory results to be interpreted by the physician.
request or receive prescriptions
schedule, reschedule, and cancel appointments
use symptoms checker
monitor chronic conditions
track anything related to health
It is also important to take note that you should not build an app for the sake of just building an app. The features must help resolve your target users' problems with the traditional health care system.
Hire an Experienced Team of Developers in Building Your Healthcare App Today!
Health applications are more challenging to develop than any other type of apps. Only an experienced development team can guide you starting from consultation to app launch.
At Technology Rivers, we don't just create apps that work on mobile devices. We create a mhealth app that solves a real problem or challenges experienced by both patients and doctors. We care about the overall usability of the app.
Contact us today to schedule a consultation with one of our development representatives, and we'll discuss how our expert mobile app developers can help you turn that app from an idea to a reality!